Why Saying 'No' Is OK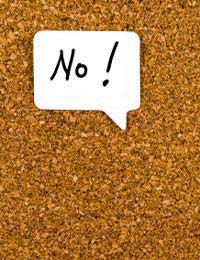 It's quite strange to think that when we were young children and barely able to string a sentence together, somehow we had no difficulty in saying 'No'. Whether it was bath time, bedtime or something we didn't want to eat, we'd scream 'No' at the top of our lungs in protest.
However, as we get older, many people often feel guilty in saying 'no' to people. Even if our own 'things to do' list spans several pages, we'll still always try our utmost to please other people.
Saying 'yes' all of the time often puts untold stresses on people but we do it because of our preconceived perceptions behind the psychology of saying 'no'.
Furthermore, by fulfilling more obligations by saying 'yes' than we could ever possibly fit into our schedule, something will inevitably have to give and that can often be at our own expense or, perhaps more poignantly, it can be at the expense of our close family and friends too, especially where work is involved.
Therefore, it's important that we try to break the habit of always aiming to please and saying 'yes' and to rethink our approach to the psychology of saying 'no'.
When Saying 'No' Is OK
There is no definitive right or wrong time when saying 'no' is OK. Only you can determine that. Obviously, we'll all have work commitments and personal obligations to our loved ones where our instincts tell us that to say 'no' would not be a wise move. Therefore, every time you say 'no' it has to be a judgement call.
However, a useful tip is to ask yourself what would be the actual consequences of saying 'no'. Most of the time, we recognise that saying 'no' is likely to disappoint somebody if they're expecting a positive answer. However, where most people go wrong is in their perceptions of how they think the other person is going to react or how they'll be thought of if they say 'no'.
pAlways remember, therefore, to keep things in perspective and if you need to refuse somebody or say 'no' to them sometimes, it's perfectly acceptable and also remember that it's not your fault if they are disappointed or their feelings are hurt as a result. That's for them to deal with, not you.
A good way of overcoming your discomfort in saying 'no' is to consider the various ways in which you can say 'no' as that is key to you feeling more comfortable when you refuse somebody something occasionally.
Ways To Say No
There are various ways of saying 'no' which can help to soften the blow of having to disappoint somebody. Here are some examples of different ways you can say 'no'.
"I'm sorry I can't come to the wedding after all. Unfortunately, my husband John has to go into hospital that weekend." – This gives a reason behind your answer
"I understand just how important those sales figures are to you but I've worked late every night this week and it's my wife's birthday tonight and I've arranged to take her out to dinner." – This lets the person know that you still value your relationship with them
"I'd love to come to that music gig with you but I think the date clashes with my girlfriend's graduation day so I'll say 'no' now rather than saying 'yes' and not being able to make it."– This lets the person know that you would really have liked to say 'yes' but can't
As you become more accustomed to saying 'no' by adopting some of these slightly less painful approaches, you may even decide that you want to say 'no' without necessarily wanting to soften the blow. For example, if you've been asked to work overtime again because a colleague always seems to be off sick on a Monday, you could simply say, "No, I've decided I'm not going to work overtime of a Monday anymore."
By being straightforward and direct and not starting your response with "I would have but…", you're closing the door on your boss ever trying to put you in that situation again.
Therefore, to refuse somebody or to say 'no' sometimes should not arouse any feelings of self-guilt. If you always say 'yes' to everything, you'll be considered a 'soft touch' and be more likely to be put upon. Therefore, saying 'no' gives you more self-control over your own life and more power. And, when you do say 'yes' to something, people who have asked a favour of you will be far more likely to appreciate you than to take you for granted.
You might also like...