Improving Your Memory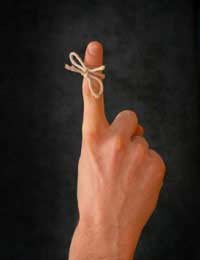 As with any form of physical exercise, your brain needs regular exercise too if it's going to function well and there are plenty of ways in which you can improve your memory. Your memory relies on many other things too.
A healthy balanced diet, regular exercise, sufficient sleep and keeping your stress levels down will all help to increase the efficiency of your memory. However, for the purpose of this article, it will focus more on the types of mental exercises you can do to make your memory function better.
Remembering By Association
We've probably all been in the position where we've arrived at a new workplace where everyone will soon get to know our name as we're the only new face but where we might have to try to remember 10 or even more new faces and match them to names. It's inconceivable that you are probably going to remember everybody's name the first day or two, especially if there are more than a dozen or so to remember.
However, when considering how to improve your memory, making a visual association between some kind of physical or behavioural trait of the person can often help you to remember names. It doesn't matter how bizarre the connection is nor does it need to be particularly flattering – after all, it's not going to be repeated. So, when you're introduced, look for a connection.
An example might be "Julie's the one with the red hair, Toni's got a big nose, Peter's the one who coughs a lot.". Once you've made your associations, repeat them to yourself in your mind. To get into practice for this, it's useful to get yourself a magazine and cut out a few unfamiliar photographs. Look at each photo for a few seconds then turn them over and write down all that you can remember about the photograph. It'll help to improve your memory.
Repeat Things By Rote
We'll all recall how we used to learn our times tables by learning them by rote through repeating them over and over. Well, the more times you repeat something over and over again, the more likely you'll be able to recall it when needed.
Using Rhyme & Alliteration
Rhyme and alliteration is also a good way of remembering things like names matching the name to a character trait. So, for example, you could have Jovial Judy, Porky Peter, Sophisticated Samantha, Don Juan, Neville the Devil, Small Paul.
Break Down Longer Information Into Smaller Pieces
Breaking down long pieces of information into smaller more manageable 'chunks' will often help you to recall detailed lists. Take your 16-digit bank card number, for example. It'll often be divided up into 4 groups of 4. Therefore, your memory is far more likely to recall it if you try to memorise it in groups of 4 too.
Find Out What Kind Of Learner You Are
We all have a preferred method of learning. Some of us prefer to see things written down on a page, others like to hear things and there are those who like visual learning. Therefore, when there are things you need to memorise, try to learn them via your preferred learning method. This could mean writing them down, putting them onto a tape recorder in audio format or creating visual slideshows or PowerPoint presentations.
Group Things Together
By compartmentalising things into specific categories, it can help to improve your memory. Just as with a computer where we'll save things in different folders so that they're easier to find, your memory will recall things far better, if you break things down into groups.
A good example is a shopping list. Say you've forgotten your list but you've remembered there were 10 items on it. Instead of trying to randomly remember all 10, go through a list of groups in your mind and see if you can recall any items from each group. You could break it down by trying to remember if you needed any fruit and vegetables, then frozen foods, then toiletries and so on.
There are many different tools and techniques you can adopt apart from these which will show you how to improve your memory. The important thing is to find one or more that work for you. And don't forget to make use of things like computers and diaries too. They're there to help you and by storing things and keeping records that way, it will free up your memory to remember more things.
You might also like...