Motivating Students To Learn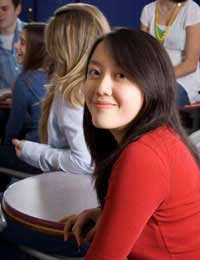 Some students are more motivated to learn than others and motivating those who aren't is one of the greatest challenges that all teachers are faced with regularly.
Motivating people in general is all about getting to understand as much as you can about them as individuals. We all have different learning styles and we're all motivated by different things in life so there should never be a 'one size fits all' approach to teaching.
By understanding your students as individuals and by addressing their needs, you have more chance of motivating them.
Importance of Being Able to Attain Success
Some students find academic work much easier than others. In a classroom setting where there are often people of very different abilities, those students who tend to become demoralised often do so because they feel as though they can never succeed when compared against others with more natural ability.
One of the ways of motivating students who feel like that is to emphasise that education isn't about competing against others. It's simply about fulfilling your own potential. As soon as students feel less pressured to make comparisons and can instead focus on their own performance, their motivation often increases.
Ways in which you can facilitate that can include giving them longer to complete assignments or helping them personally on a one to one level so that they can get to grips with more complex issues. By overcoming hurdles and being able to attain their own goals, it will help in motivating them to achieve their very best.
Make It Relevant
For many students, they need to be able to relate their learning experiences to the real world for it to have any sense of meaning to them. For example, students today may be completely turned off by learning about what went on in the Second World War but by relating that to the present day and more recent examples of global conflicts they might be more familiar with, it will become more motivating and, using this example, you could, perhaps, relate it to things like intolerance in society, power struggles, racial prejudice and even gang land culture, for example.
Using Different Learning Styles
You should look to vary your lessons by incorporating different learning styles. Field trips, group assignments, role plays and using the likes of audio visual aids can all play a part in motivating students.
Setting Achievable Objectives
We all know that to remain motivated to do anything, we all need to set ourselves goals which are achievable and measurable. It's perfectly acceptable to have high expectations but make sure that whatever tasks you're setting for your students that they can be achieved within the timescale you've set for them.
Privileges & Rewards
Some teachers will only use the 'stick' approach when trying to maintain some kind of discipline. However, to get the best out of people, they also need to have the proverbial 'carrot' dangled in front of them. Motivating students is not that dissimilar to motivating people at work. Therefore, having rewards and incentives as you often do at work can also help in motivating them to succeed.
Things like a packet of sweets or a box of crayons can be a good incentive for primary school children whilst things like book tokens, CD or computer games vouchers can often motivate older ones. And, if the budget doesn't allow it, even awards certificates to mark somebody's achievements can be sufficient motivation.
With any rewards system, however, it's important that each and every student has the opportunity to benefit so giving rewards for things like 'most improved performance' and not just recognising the academic high achievers is vital.
It's not always easy nor is it possible to motivate everybody you'll ever teach. External factors such as a student's home life, their parents' approach to life and peer pressure can all affect the motivation levels of a student. The important thing is to recognise the fact that motivating does play a huge role in the ability to learn new things and do your best to ensure that you're creating the right kind of environment in which students can prosper and flourish.
You might also like...