Signs of a Deteriorating Relationship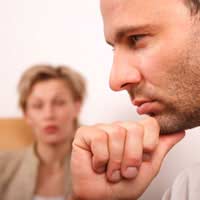 When we enter into a new relationship, it can be one of the most joyous experiences we'll go through. A new love can make us act and behave in ways we might never have done previously and our thoughts can often be totally consumed by the person we hold dearly in our affections. This is often referred to as the 'honeymoon' period and it's a wonderful period that most of us will have experienced at some time or another.
Sadly, honeymoon periods don't last forever and a relationship will then usually settle down into something less akin to 'young love' and, if it's good, a deeper love and mutual understanding will result. However, when a relationship goes wrong, it can be very traumatic for those involved. Arguments and disagreements from time to time are natural between partners and they don't need to signify that anything is wrong with the relationship. On the contrary, they can often be quite healthy and can help to clear the air. However, when couples encounter relationship difficulties, they can often go relatively unnoticed. Cracks can start to appear in the relationship which you're sometimes not that aware of until it's too late to rectify. So, if you're looking to salvage a long term relationship, it's important that you're aware of the signs of deterioration.
Signs Of A Deteriorating Relationship
The signs that you're having relationship difficulties can manifest themselves in many different ways. Here are some of the more common symptoms of deterioration in a long term relationship.
Lack Of Communication
Often, you'll find that couples tend not to communicate with each other as much or when you do, the only conversations you'll tend to have will be about all of the things that are wrong with the relationship. Others may just ignore their partner altogether or one partner may start to avoid talking about sensitive issues which the other partner might want to discuss.
Loss Of Intimacy
The loss of intimacy is another key sign that a couple is experiencing relationship difficulties or, perhaps, during the occasional rare moment of intimacy, it's interrupted by an argument.
Criticising Your Partner
Couples who are experiencing difficulties will also tend to develop a negative attitude towards each other. This is often displayed by expressing criticism of your partner or you'll tend to constantly be criticising them to your friends.
No Give and Take
We all know that relationships are all about making compromises. However, when they go bad, consensus and compromise tends to go out of the window and one or both partners tend to become selfish or start to lead separate lives.
The Candle Burns Out
Some of the saddest situations arise when there's not been any real sign of any of the above taking place. Sometimes, people just drift apart for no apparent reason. They might still have some kind of mutual respect for each other but the 'love' in its truest sense, might have evaporated to the extent that you see each other as simply 'roommates' or like brother and sister, as opposed to seeing yourselves as a loving couple.
The Grass Is Greener
Once your relationship has reached the point where one or both of you has started to wonder if the grass is greener elsewhere, then the relationship is in serious trouble. Thoughts of 'old flames' and flirting with people when out with friends are sure signs that you may be looking to move on.
Salvaging The Relationship
The saddest thing has to be that most couples who may experience relationship difficulties often leave it too late to try to restore harmony. Too much damage might already have been done. Perhaps, the constant arguments have destroyed what you both had beyond repair. Maybe, one of you has even cheated on your partner. The fact of the matter is that if you've just begun to experience any of the symptoms above, you can salvage your relationship and get it back on track but only if both partners are willing to try. Therefore, good communication is crucial, especially when things go wrong. Even if you don't know where to start, relationship guidance can help. You don't need to be married to attend guidance sessions and some couples find that it's easier to talk things through with the help of an experienced and impartial relationship guidance counsellor.
That is not to say that relationship guidance will always work. However, whether or not a relationship can be helped to be guided back on track or whether one or both of you decides that it's time to move on, it's far better to try than to simply give up and, perhaps, only be left with thoughts of what might have been, had you put more of an effort into getting things back on track. That said, a break up can sometimes be the best solution. Remember, that two people happy and apart is a far better outcome than two people together who are only ever likely to make each other miserable.
You might also like...
I feel like my marriage is in trouble,no intimacy and proper communication. Guide me to get my marriage back on track
Khilometer
- 30-Apr-19 @ 7:38 PM