Questionnaire: How Motivated Are You?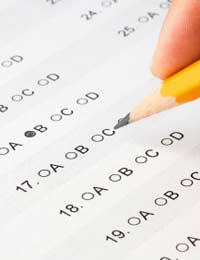 What motivates you to get a day's work finished? A pay cheque at the end of the month maybe? Or is it the sudden threat of punishment or penalty? Understanding what drives you can help you identify ways of improving your levels of motivation.
1. Your new boss asks you do write a report that highlights your personal views and opinions of the way your previous boss ran the show. Do you:
a) Feel faint, fake sudden illness and go home to hide under the duvet for a week?
b) Cancel all your meetings for the rest of the day and get on with the report – this is your opportunity to finally say what you've been thinking for years.
c) Organise your tasks and check your schedule for a window of opportunity later in the week – you'd also like the time to really think about what you want to express.
2. You are chosen to organise the department's annual outing. What do you select?
a) A day spent at a lavish country hotel, where there is a renowned restaurant, golf-course, Spa and plenty of other options you know you will enjoy, at someone else's expense?
b) Send an email to your colleagues asking for their input and ideas regarding the outing? After all, you'd like everyone to have a fabulous time so what to ensure it's a memorable day.
c) You book a table at the popular local restaurant and pop out to buy a few party poppers?
3. A colleague has just been promoted to the position you would have liked to have been offered. What is your first thought?
a) Maybe my skills weren't what they were quite looking for, so perhaps I should revise my CV and look into refreshing my skills and experiences.
b) You are not surprised in the slightest and accept that you are destined to do the job you are currently doing until you retire.
c) You are way more talented but you didn't want the job anyway.
4. Do you worry about the future?
a) Hell no. The future offers limitless possibilities and you are excited about what it may hold for you.
b) You're a little concerned that you may have to work harder, for the same amount of reward, but on the whole you're prepared to see what challenges it brings.
c) You are petrified that things could get worse than they are, and would rather just not think about it.
5. Your deadline expires in an hour's time. What do you do?
a) Text your friends to let them know you might be late tonight then start wading through the paperwork, sighing heavily and hoping a colleague will notice and offer some assistance.
b) Prioritise the work that needs to be done, and ask a colleague for help with dealing with other matters that require attention.
c) Stare blankly at your computer screen.
Score:
1) a 0 b 5 c 10
2) a 5 b 10 c 0
3) a 10 b 0 c 5
4) a 10 b 5 c 0
5) a 5 b 10 c 0
0 – 5: You are firmly ensconced in your comfort zone, and no-one is going to get you out of it. You've probably been doing the same dull job for most of your working life and experience so little excitement that you fail to realise how much is actually going on beyond your small world. Maybe it's time you took a look?
5 – 10: You are motivated by the fear that you may be awarded some kind of penalty for failure of completion, or a similar punishment, and are often too scared to challenge yourself in any way. You lack a little confidence in your own abilities, and perhaps have one or two self-limiting beliefs, but on the whole you know there are a host of opportunities and possibilities out there. So why not dip a toe in the water?
15 – 30: You struggle to maintain focus and motivation but can go the extra mile if you are offered some kind of reward. You're really not all that fussed if it is a financial incentive or even a small token of appreciation, just as long as someone offers you something in exchange for your time, effort and input. Maybe it's time you stopped expecting and started creating your own rewards? Or maybe you should motivate yourself to go for the bigger prize?
35 –50: You enjoy the adrenaline rush you get from working to a tight deadline and/or love the buzz you experience from being in control of what you do and how you do it. You're motivated by new experiences, fresh opportunities and the potential to learn more about yourself and the world around you. You know how to motivate yourself and are able to inspire confidence in others. So what are you waiting for? Get out there and show them how it's done!
You might also like...