Give a Motivational Speech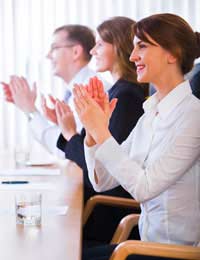 Whilst speeches are something that we're all likely to have to make at some point in our lives, motivational speakers give speeches which take things to another level.
In motivational speaking, it's nothing to do with making a toast or delivering an acceptance speech for an award you've won. It involves a great deal of skill and the idea behind motivational speaking is to capture the attention of your audience in such a way that it feels empowered to act upon the message you're conveying.
Motivating people can often be difficult at the best of times so it's important that a great deal of thought goes into the writing and delivery of the speech. Here are some of the things you should bear in mind.
Know Your Subject Matter
It is necessary for motivational speakers to care passionately for the subject matter they're going to be delivering in a speech. Motivational speaking is very much like a 'call to arms' in which the speaker should be aiming to deliver a motivational and often highly emotive speech which should literally grab the audience's attention and leave them feeling as committed to the cause as the speech maker. They should leave the audience feeling inspired.
Good examples of where you see motivational speakers at their best are sports coaches and politicians, particularly at party conference time. They basically grab the audience's attention by the scruff of the neck and leave them hanging on every word. In order to motivate people, you'll already have had to gain their respect. This doesn't necessarily mean that you have to be some kind of business leader.
A motivational speech can be given by a parent to a child, for example. The important thing is that your passion for what you're talking about needs to shine through.
Know Your Audience
It's also important to tailor your speech to your particular audience if you're going to have them engage with you and what you're saying. A prime example would be a politician. When making a speech, he or she isn't going to deliver the same speech to his party members as the one he'd give if he was visiting a high school. He might still wish to convey a similar message but the speeches will be very different.
Therefore, it's important when writing a motivational speech that you tap into the interests or concerns of the audience you're addressing in order that they can relate to you. In a work situation, you'll already have a head start as you'll all have the common bond of working for the same company. You're also likely to know many members of the audience and what makes them tick.
Going in 'blind' however, you're going to need to do some research and to find out a little more about the lifestyle and social and cultural and background of your audience if you truly want to tap into their psyche.
Use Action Phrases & Climax Builders
Motivational speakers need to build trust and confidence in their audience if they want to inspire them. Therefore, when making your key points, it's important that you try to illustrate this with some examples from your own experience. Phrases such as "do not hesitate", "think positively" and "sign up" or other more relevant phrases for your speech can be dropped in here and there and, as you'll notice, they've been written in the form of a command which, in essence, is akin to motivation.
So, whilst you're not literally commanding anyone to do anything, dropping the odd phrase in which has the subliminal effect of a command is more likely to have a more powerful effect in terms of the action you want your audience to take.
Good motivational speeches ebb and flow but for each key point you want to get across, you need to write it in such a way that it builds and builds into a climax. Motivational speakers will write their speeches in such a way that at the point where they want to make the biggest impact, they'll summarise the point they've been making in one or two key climactic sentences.
At the same time, they might speak a little more loudly and emphasise each word with an exaggeration of their body language, often using their arms or hands to hammer home the point.
Motivational speakers can be used for many different purposes. They can improve the public's perception of a company and increase the company's credibility. They can be used to build trust and can provide confidence and comfort to people. They're possibly the hardest type of speeches to pull off. However, written and presented professionally, they can be extremely powerful and can provide a great deal of motivation.
You might also like...