How to Captain a Team and Motivate your Players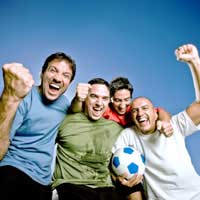 The role of team captain is not simply a ceremonial one. On the contrary, it exemplifies team leadership and a good captain will be able to motivate and inspire his or her team.
Characteristics of an Effective Captain
Team captains come with very different personalities. Some will have very fiery temperaments and they will inspire the rest of the team by constantly barking orders at those around them whilst there are quieter captains who will demonstrate their leadership skills in a much less demonstrative way such as leading by example in the calm attitude with which they'll go into battle when the pressure is on. For example in football, two famous captains who had very different personalities were Roy Keane and Sir Bobby Moore. Roy could have a fiery temper which could sometimes spill over and get him into trouble with referees and officials yet he was a marvellous example of steel, grit and determination. On the other hand, Sir Bobby Moore, who captained England to their one and only World Cup triumph epitomised ice coolness by going about his business quietly and by making the job look easy. Therefore, these are two very different types of captain but both were able to foster a spirit of team building.
Qualities Needed to Become a Great Captain
Whatever type of personality you have, a captain needs to be able to demonstrate the following:
Being considered one of the best players in your chosen position
High levels of motivation typified not only when competing but by setting an example in training sessions too which helps with team building
Enthusiasm and a passion for your sport
Having a clear goal or vision which you're able to communicate to the rest of the team
Respect for officialdom (although some are better at that than others!)
Good working relationship with the team manager and an understanding of what they expect from you (this doesn't necessarily mean you have to like them)
The Importance of Respect
As the captain of the team, it's important that you build up a good rapport with the rest of the players and gain their respect. Only by doing so can you ever hope that the players will be as committed to the cause as you are. The best way of doing that is to lead by example. Hopefully, this will rub off on the rest of the team who will follow your example and it will set them a benchmark to which they can aspire to. This means looking out for your fellow team members on the field of play and by giving them praise and encouragement where needed and a willingness to give them guidance or constructive criticism where appropriate.
You should also show the same kind of enthusiasm and support in training too. Captaincy is not all about 'grabbing the glory'. It's therefore important to remember that any success that the team achieves is a collective effort. A good team captain will also set examples in their behaviour away from the sport too. This is an extremely important quality which is sometimes overlooked. Remember that a lot of the players in your command may be several years younger than you are and you should, therefore, conduct your life away from the sport in a manner which they can respect.
You might also like...