Coming back from Serious Injury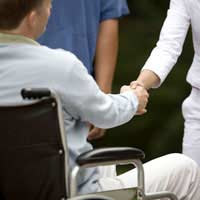 Every athlete and sportsperson accepts that injuries come with the territory no matter the degree of risk associated with the sport. Fortunately, most injuries are not too serious and following treatment and medical advice, most athletes can resume normal activities within a couple of weeks. However, serious injuries do occur sometimes and in extreme cases, they can be severe enough to put you out of action for several months and, occasionally, for even longer than that. And, when these types of injuries do occur, it's often more the psychological aspects of coping with the injury than it is the physical that causes the majority of problems.
The Psychological Aspects Of A Severe Sports Injury
Firstly, when you are prevented from participating in your chosen sport as the result of suffering from a serious injury, the first psychological blow will often be losing the element of routine from your life. In addition, your social structure could be affected as a result as team mates continuing to train and compete whilst you're left on the sidelines. And, as time moves on and the physical rehabilitation progresses, on a psychological level, the longer you're injured, the more your self-confidence can be damaged to the extent that when you have been given a clean bill of health and told that you can start to train fully and compete again, many athletes can start to have doubts about their ability. They can also become fearful of the injury re-occurring and all of these doubts can affect performance and negative thoughts can start to occur.
There are numerous stages to overcoming a serious injury.
Accept The Fact That You're Injured
Firstly, there's no use apportioning blame to yourself or to anybody else when you've incurred an injury. Yes, you may be injured thanks to somebody's foul play or negligence but placing blame and feeling resentful will do you no good. Just accept that you are injured but now that you are, accept responsibility that you will be the person who will ultimately determine your return to sport.
Learn About The Injury
Find out as much information as you can about the injury from your doctor or any other medical professionals treating you as well as your coach, if you have one. Questions you should seek answers to should include:
What type of injury is it?
How long is the estimated recovery time?
What is the nature of my treatment and how will this benefit me?
What will the rehabilitation process include?
How will I know if I'm recovering or getting worse?
By building up a comprehensive understanding of your injury and the rehabilitation process involved, you're likely to feel a greater sense of control towards your injury which will allow you to set goals and targets.
Setting Goals And Targets
Every sportsperson knows how important it is to set goals along the way to total recovery in order to help you stay motivated. More importantly, however, they also know that rushing things can set them back in the long run. Therefore, in conjunction with the knowledge you have gained through learning about the injury and the rehabilitation process, this should allow you to set realistic goals when you begin training again. Make these goals smaller and in several stages. You'll soon become de-motivated if you set goals and targets that are way ahead in the future. Taking small steps and reaching goals by defined dates will increase your confidence and keep you motivated. But don't overdo your training. In your rush to get back, you could end up taking one step forward and three steps back. Also, don't neglect the fun side of sport and continue to enjoy the social element of your chosen activity. Just because you can't compete, it doesn't mean you can't socialise with your team mates so make sure you don't neglect having some fun in life too.
Mind Management
In addition to concentrating on your physical rehabilitation, focus on the psychological side too. Maintain a positive attitude about your entire recovery programme. If you start to feel negative or have self-defeating thoughts, learn to recognise them and then make a conscious effort to replace them with positive ones. Speak to a sports psychologist if you feel it might help. Many techniques such as creating mental images, sensations and feelings have proven to be very beneficial in injury rehabilitation in sport. Ultimately, it's about knowing your limits, following advice and setting realistic goals.
There may be occasions when you suffer some minor setbacks but simply accept that this might happen sometimes and do not deviate from your goals, even if they have to be modified in some way.
In the vast majority of cases, overcoming a serious injury has little or no physical effect on your previous physical ability within a particular sport. Moreover, what you've been through will undoubtedly give you a mental resilience that will often result in you performing even better than you did before you got injured.
You might also like...