Beating Boredom While Working Out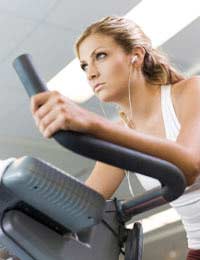 No matter how good your intentions are when you take up a sport or pursue some kind of exercise regime, at some point your motivation levels will dip and you'll find it hard to summon up the enthusiasm to continue. There are several different ways you can combat boredom, some of which are more appropriate if you're, say, working out at the gym than exercising outdoors. However, the list of 'boredom-busters' below should provide you with some ideas and inspiration for staving off boredom in your chosen exercise or sport.
Read or Listen to Music
If you exercise at the gym, it can sometimes get a bit monotonous. But it's an ideal place to combine training with a spot of reading or listening to the radio or to your music collection on your MP3 player. Several of the machines you'll often find in gyms will be designed so that you can place a book or magazine in front of you whilst you work out and you can even get audio books to listen to if music's not your thing. Many gyms even have TVs you can watch whilst exercising. Basically, by taking your mind off the exercise itself, it can often help to alleviate boredom.
Get a Friend Involved or Even a Stranger
A lot of people prefer to exercise in solitude but it takes a lot of discipline and sometimes the lack of social interaction can induce boredom. Therefore, why not get a friend to join you or even ask a stranger at the gym. In addition to the social interaction, if you've arranged to meet somebody, then you're less likely to duck out and you can always work on things like time challenges such as the number of reps each of you can achieve in a minute on a particular piece of equipment, for example. By becoming more competitive, it's less likely you'll feel bored.
Set Yourself Targets
When it comes to solitary gym work in particular, a lot of people tend to set themselves a specific length of time they are going to stay at the gym and that's about it. However, if you set targets for yourself on each piece of equipment you use, you'll gain more motivation by keeping records and trying to beat your previous best on your next visit.
Try Different Equipment and Different Activities
Whether it's badminton you play or the rowing machine or exercise bike you use at the gym, it can get a bit boring if you don't mix it up a bit from time to time. So, on occasion, make it a point at the gym to use some of the other equipment you haven't tried before or if you're playing badminton, try tennis or a squash session some time or some other sport. Also, if you exercise in a gym, try to incorporate some exercise that takes place outdoors occasionally. A run in your local wood in the fresh air enjoying the nature and wildlife can make a very pleasant change.
Reward Yourself
Exercise can sometime seem like one long treadmill that never ends so it's important that you mark your dedication and achievement by rewarding yourself whenever you achieve a specific goal. Treat yourself to a meal out or buy a new item of clothing if you reach your target or goal. By setting goals and rewards for achieving them, it's more likely you'll stay motivated.
Join a Team
Boredom when exercising is usually more commonly associated with those who exercise alone. Therefore, why not mix and match your exercise regime by joining some kind of team sport activity once or twice a week. That way, you'll still be getting the benefits of exercise but you'll also be making new friends and will be looking forward to the social interaction each week which will keep you motivated to continue.
Get Exercise Out of the Way First
For those who dread exercise but do it just the same, one of the best ways to avoid boredom is to get it out of the way at the beginning of the day, if your commitments allow. By doing that, you can then look forward to the rest of the day. However, if it's not something you enjoy, by leaving it until the end of the day, the closer it gets, the more you'll dread the thought of it and the more likely you will be to quit.
Find Out What Motivates You
Exercise and sport should be fun and whilst it's beneficial to adopt a routine, it shouldn't be thought of as a regime you have to stick to. If that's becoming the case, perhaps it's time to question whether the type of exercise you're doing is the wrong type if you're constantly finding you're not motivated. That's the point where you may need to sit down and think of what type of sport or exercise would stimulate you. For example, there are those who would find the thought of pedaling nowhere on an exercise bike the essence of boredom and prefer to chase a ball around. Then for others, even that's too tame and they prefer high-risk adventure sports. Ultimately, to maintain your enthusiasm for exercise, you have to find activities that are going to stimulate you, not those that you think are a burden.
You might also like...