Self-Control and Managing Emotions In Sport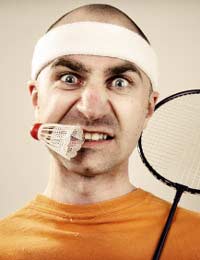 Many people who compete in sporting activities and sports psychologists and coaches will tell you that victory is often gained in the mind as much if not more than by the skill an athlete possesses.
You'll no doubt have witnessed sporting triumphs being wrenched away from a particular sportsman or woman because they have lost their self control or they've been unable to manage their emotions healthily. Gaining control of one's emotions, especially in the face of extreme pressure or when things seem to be going against you is essential to all great champions. And, whilst remaining ice cool and unflustered to distractions and disappointments seems to come naturally to some athletes more than others, this is an area which can be worked on.
One of the greatest examples of that is the tennis star Roger Federer. These days, hardly anyone would dispute that Roger has to be one of the most ice cool characters in the sport. However, when he was first starting out in his career, he often lost his temper and there is footage of him throwing rackets about and losing his temper with both his opponents and officials. You have to go back a long way though and it's no coincidence that it was only when he began working on managing his emotions and maintaining his composure that he started winning major Grand Slam events.
Anxiety And Anger
Anxiety and anger are the two key components of what causes athletes to lose their self control and find it difficult to manage their emotions. It could be a perfectly legitimate disallowed goal in football or your opponent in tennis making detrimental and un-sportsmanlike comments to the media about you that could cause you to lose it. Both anxiety and anger can, with practice, be used to your benefit if managed correctly. Anxiety can be both physical (experiencing butterflies, sweating) and mental (having negative thoughts or worrying). However, you can turn both of these into positives. Firstly, with anxiety you need to understand that this is a perfectly natural body response in preparation for competing. Therefore, all you then need to do is to focus on controlling that in a positive way through managing it by undertaking breathing exercises and other relaxation processes which help you focus positively on the competition to come.
Anger, on the other hand, can be dealt with differently. It usually comes about either because of something an official or opponent has done or said. Firstly, when it comes to incorrect decisions or perceived incorrect decisions in your view, you need to recognise them but then use the energy that stems from your anger positively. An example might be making your next shot, your best shot. In other words, accepting that bad decisions are part of sport and that sometimes they go for you and sometimes against (meaning they even out in the long run), you can put them behind you more easily and live in the moment rather than becoming distracted by what you felt was an unjust decision. Likewise with barracking from your opponent. Simply view it for what it is – that being an attempt to disrupt you and to make you lose your self control. By looking it in this way, you're unlikely to let it get to you and you'll remain in complete self control.
How Can I Improve My Ability to Maintain Self Control?
Deep breathing and relaxation exercises both before and even during competition can help to maintain a healthy, well balanced emotional state. Visualisation techniques can also help and a professional sports psychologist or even your coach will be able to offer you more guidance.
You might also like...