Preventing Performance Slumps and Burnout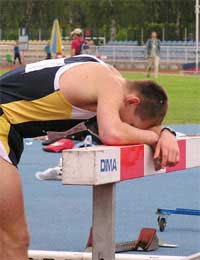 Whilst there are ways of preventing burnout in sport, performance slumps are very different. There is absolutely no way you can perform to your peak level 100% of the time – that is part and parcel of sport. In a similar fashion to a 'hot streak' for example where, say, in football, you've scored in the last four matches having only scored once in the previous ten – then just as a hot streak cannot go on forever, then neither can a performance slump. It's how you cope with performance slumps in order to overcome them as quickly as possible that counts.
Don't Overanalyse
When you hit a performance slump in sport, it's important that you don't start to overanalyse what you're doing wrong. A slump in reality is caused by your own emotional response to one bad performance and in recognising that an occasional 'one-off' bad performance slumps happen to everybody now and again, you should be able to shrug it off and mentally move your focus on to the next match. Where a slump starts is where an athlete starts to overanalyse what caused their one bad performance. Here, you can tend to find that you can start looking at statistics too much and placing too much emphasis on those rather than in trusting your own natural instincts and ability. Goalscorers in football are typical examples here and so are golfers. Numbers increasingly take over in your mind which only piles more mental pressure on an athlete instead of considering your all-round performance and trusting your ability.
Speak to Your Coach
If you're suffering from a dip in performance that goes on for too long, you should seek advice from your coach or manager. It may be they have noticed that you now seem to be trying too hard instead of allowing your natural fluid rhythm to take charge. Perhaps, they'll be able to identify some mechanical errors – for example, if it's your serve in tennis, it'd be useful to look at videos of your ball toss and strike before things started to go wrong to see if there are any visible signs that you are doing something differently. With performance slumps, the less emotionally attached you become to them and the more you're able to accept that they are part of sport, the more likely you'll get back to your best more quickly as they are mostly caused by emotional responses to a setback.
Performance Burnouts
Burnouts in sport occur when you feel physically and mentally drained and can no longer maintain your focus and will to compete. These are a lot easier to handle than slumps because, unlike slumps which naturally occur, you can prevent burnout from taking hold before you have no other choice but to stop playing for a while. Some useful tips include:
Establishing small daily objectives with built in small rewards
Building in sufficient time for breaks and relaxation and enjoyment within your training schedule
Constantly reinforcing mentally what it is you love about the sport and why you put the effort in
Nobody ever becomes a great sportsperson unless they are 100% committed and determined to put a lot of hard effort in, both in training and competition. However, those who often experience burnout tend to let their sport consume their whole life. Inevitably, this can take a great deal of toll on you both physically and emotionally. Therefore, even if you're making a living out of sport, it's also important to remember not to let it become 'all consuming' and to make time for rest and for enjoying other aspects of your life too.
You might also like...