Quitting Smoking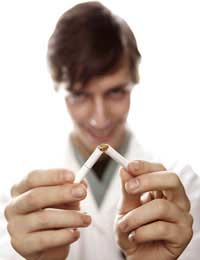 It takes a lot of willpower for most people to quit smoking. There are many ways to quit smoking and what works for some people doesn't necessarily work for others.
Many have quit through weaning themselves off cigarettes gradually, others have used one of the many quit smoking aids that are available whilst others have just opted to simply stop.
There is no right or wrong way to quit smoking but what all smokers agree on is that motivation to want to quit is crucial. In order to give you the motivation to quit smoking you need to identify one or more ways in which quitting will be beneficial to you personally.
The Benefits Of Quitting Smoking
If you quit smoking, apart from the obvious health benefits which you'll experience as a result of doing so, there could be many other motivations to encourage you to stop. These might include:
Your children – think about the effects that your smoking is having on them
The smell – no more disgusting ash trays to empty and not feeing self-conscious about the smell of your clothes when you go out
Financial reasons – weigh up how much you spend on cigarettes per year and what you could do with the money – several holidays or maybe even a new car
A health scare – a health scare can often be seen as the strongest signal yet which tells people to stop
Starting a new relationship – how many times have you put off potential partners from getting to know you better because you're a smoker
Whatever your motivations, make these the focus of your reasons why you want to give up. As long as you have a clear motivation, then you're halfway there. However, if you're not truly committed to giving up, you're bound to fail. So, as well as your own efforts, seek out quit smoking support, if necessary.
Ways To Help You Quit Smoking
Apart from the various quit smoking aids that might help you and the different types of quit smoking support which you can obtain from professionals, your GP and from your friends and family, there are other small changes you can make to your lifestyle which will give you a better chance of remaining an ex-smoker after you've quit.
Identify Your Problem Times
Work out when your cravings are at their worst. For some, this may be as soon as they've had their first cup of tea in the morning. For others, it could be after eating a meal whilst for some it's when they're at the pub. Whenever you feel the urge to smoke, take a couple of deep breaths and distract the craving by doing something else for 5 minutes or so.
Usually, sudden cravings only last 5 to 10 minutes so as long as you keep your mind occupied with something else during these periods, you should find that your cravings will pass. Some people prefer to suck on a boiled sweet or nibble on a piece of fruit.
You may have your own strategy which will help to quit smoking and there are several ways to quit smoking. And, the longer you go without cigarettes, the more your cravings will gradually decrease until they disappear altogether.
Do More Exercise
Whether you're 20 or 70, most people find that shortly after they quit smoking, they feel healthier already. Therefore, quitting smoking provides you with just the right incentive to take up some exercise or to increase your exercise if you're already doing some.
You'll soon find that the fitter you become, the better you'll feel and as a psychological result of that, most people find that the thought of putting a cigarette into their mouth becomes abhorrent.
Seek Support
If you feel you're lacking in a bit of willpower or need some guidance or direction which will help you to quit smoking, the NHS runs a free 'Go Smoke Free' quit line and they will give you all the support you need alongside advice about quit smoking aids. Friends and family can encourage you too as can your GP who will be able to give you plenty of advice about diet and exercise as well as advising you of useful ways to quit smoking.
Finally, don't forget what motivated you to quit in the first place. If it was money, why not open a small savings account and put all of the money you would have spent on cigarettes into that account at the beginning or end of each week. You'll be amazed at how much money you wasted on cigarettes previously, money that you could put to good use. If it was your loved ones, think of how you won't be harming their health anymore, how you're not going to stink of cigarettes whenever you're with them and how happy they'll be that you've decided not to ruin your own health.
Whatever your reasons, once you've made the decision to quit smoking and have stuck by it, you'll soon come to realise that it was one of the best decisions you've ever made.
You might also like...