Diet Motivation: Case Study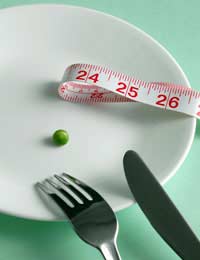 At her heaviest Eva Warner, who is 32 and 5' 6", weighed 18st 5lb. Years of yo-yo dieting, comfort eating and three pregnancies had ensured Eva's weight kept creeping higher and higher on the scales. By the time she reached her 28th birthday there was no hiding the fact that her weight was impacting on her health and quality of life.
"I realised I was depressed about the situation but I was caught in a vicious circle of overeating. My children were 5, 3 and 2, at the time, and they were a bit of a handful. The only way I could get any personal satisfaction, after a stressful day, was to sit in front of the TV with cake or chocolate.
"I was always short of breath, but I used to convince myself it was because I was constantly on the move picking up after the children. The reality was that I just didn't pay any attention to looking after myself."
Reliable Methods
Eva, from Maidenhead, went to her GP for weight loss advice and was given a Body Mass Index (BMI) check. A BMI reading is calculated from a person's weight and height, and provides a reliable method of assessing body fat. A BMI of between 18.5 and 24.9 is considered to be a normal, healthy reading. Anyone with a BMI number over 29.9 registers as being overweight. Eva's BMI reading was 41.6, which medically made her morbidly obese.
Following the diet and exercise sheets her GP had given her proved to be uninspiring for Eva, so she persuaded a friend to share weight-watching tips, from the weekly weight-loss class her friend attended. Eva also purchased a couple of fitness DVDs and some hand weights, from a car boot sale, and conditioned herself to devoting 30 minutes every morning and evening to her new health regime.
"The first few weeks were hard, because I couldn't see how I could possibly lose all the weight I wanted to just by following instructions. But as the weeks passed, and I began to notice my clothes were feeling a bit looser, it spurred me on to see just how much I could lose."
Daily Habits
Eva's daily 30 minute exercise sessions soon increased to a 40 minute brisk walk in the morning, whilst her mum looked after the children, and an hour in front of the TV, doing pilates exercises instead of comfort eating. Her husband Mark, was so impressed with Eva's continued enthusiasm that he agreed to join her on her fitness kick at the weekends.
Keeping a daily record of everything she ate also helped shift the pounds. Friends began to pass on trusted tips and healthy recipes and exercise soon became part of Eva's new habits. If she experienced a bit of a stressful day and was tempted to reach for the cookie jar Eva didn't punish herself for the slip up.
"My eating habits and likes and dislikes changed so much that I didn't crave the sugary stuff I used to love. The cupboard was full of dried fruit and cereal bars, which meant I didn't feel as guilty as I used to if I felt like a treat."
Staying Motivated
Although her friends and family were all behind Eva's weight-loss programme, staying motivated was a concern. By writing down everything she ate, listing her exercise routines, researching additional tips and ideas online and in magazines and gradually decreasing calorie intake, Eva managed to stay on track without much difficulty. After a period of 26 months Eva achieved a weight loss of 8st 2lb. At 10st 3lb she has maintained her ideal target weight for over 18 months and is determined to stay fit, healthy and slim for the foreseeable future.
"If I can lose 8st by motivating myself to follow a healthy living plan anyone can do it. You just have to want the end results more than you do a cream cake."
You might also like...