Personal Career Planning and Goals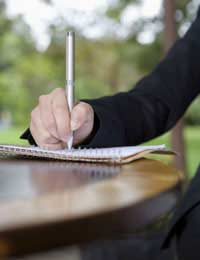 If you truly want to aspire to greater things, then career planning is extremely important. Taking some time to evaluate and to write down where you are at now and what you're hoping to achieve in your career over the short and medium term can help you to remain focused.
In addition, setting realistic deadlines by which to accomplish certain goals will help to ensure that you don't become complacent.
Identifying Career Goals
Each of us probably has different specific goals when it comes to career management. For some, it may mean looking at ways in which you can improve your marketability to try to get a job elsewhere whilst there may be some of you who are looking to get out of the industry you are in and take on a whole new career change.
There are some who will want to try to achieve a better work/life balance whilst others will want to try to obtain promotion and more responsibility in the company for whom they are currently working.
The important thing is to look at the position you're currently in and to determine what you want to achieve in your career, draw up a plan and to make a resolution to stick to it.
Drawing up a Career Plan
Career planning helps you to stay motivated but, in order to do that, you need to draw up a constructive plan which you can measure your progress against. This will help you achieve your career objectives more easily. Write these down alongside your action plan for achieving these goals.
The best way of doing this is to break down your plan into smaller components giving each one a deadline by which you're looking to achieve it. So many people fail to achieve their goals because they've not done any career planning and only have a vague notion of where they see themselves in, say, a year or two's time.
Because they haven't come up with an organised strategy they often, therefore, end up abandoning their aims halfway through as they become demoralised because they see themselves as being miles away from getting to where they want to be.
For example, if you're looking for a new job, your career planning might include you setting out to send 6 speculative applications off each week, applying for 5 advertised jobs and making 10 speculative telephone approaches to companies.
Be Realistic
Whilst it's perfectly acceptable to aim high in terms of your career planning, do ensure that your goals and timescale for achieving them are both realistic. For example, if you're looking for a career change, you may need to factor in one or more years of study if you need to obtain more qualifications.
Therefore, when setting goals and timescales, make sure you've done your research and spoken to people who can offer you advice and then come up with a plan that is achievable. If you aim too high, too soon, you're only setting yourself up for failure because if you're unable to reach a goal in the time you've allocated to it, then you're likely to abandon any career management plan as a failure.
Tell Others About Your Aims
By telling close friends and family about your career aims, this can also help you keep on track. They can provide you with support, help you stay motivated and even give you an encouraging 'prod' if they think you're becoming complacent. This kind of encouragement should spur you on and help you to stay focused.
Be Kind to Yourself
We all like rewards so when you accomplish each goal, don't move on to the next one straight away. Take a little time out to recognise the hard work you've put in and give yourself a reward for achieving a particular goal. Having an incentive to accomplish something at each stage will keep you motivated. Therefore, if your aim was to get 4 interviews a month and you achieve it, treat yourself to a nice meal out or give yourself some other kind of reward.
Career planning is all about persistence, self-discipline and goal setting and as long as you keep a realistic perspective, there's nothing you can't achieve.
You might also like...