Choose the Right Career Path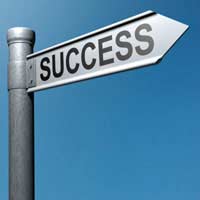 Too many people stay stuck in a rut in a particular job or career that they don't enjoy. This can often be for far too long and sometimes they can end up doing so for the entire duration of their working lives.
When you think about the amount of time you end up spending at work, (approximately a third of each working day if you work full-time), it obviously makes sense to try to ensure that you enjoy your career and that you're not simply going to work to earn money.
Whilst money obviously plays a significant role in the reason for going to work in the first place, in choosing the right career path, it will make you more motivated to want to go out to work in the first place.
Conduct a Self-Assessment
In order to choose the right career, you need to start by carrying out a thorough self-assessment. Consider your skills, needs, values and, perhaps most importantly, your dreams and aspirations. Ask yourself what you would truly like to do for a career if something like money was no object. Jot down the types of things you enjoy doing in a working environment.
It may be you're a natural problem solver and trouble-shooter. Perhaps, you're highly creative and drawn to the arts, for example. Consider where you fit in to the grand scheme of work.
Are you a natural leader and manager or a born follower? Do you work best when working solo or do you thrive on teamwork where you're part of a larger group of workers all working towards a common goal? Answering these questions will formulate a plan for your career development.
Assessing Your Priorities
As well as your hopes and dreams and analysing your various skills, it's also important to write down what your priorities are. If you're driven by the pursuit of money – fair enough, but what if you're more driven to achieving a good work/life balance.
You may need to also weigh up family commitments and look at your values. Are achieving a certain social status and prestige important to you? Once you've looked deeply into what skills you have and what motivates you, it's time to consider the type of career you might wish to pursue.
Research
Now it's time to do some research and to identify all of the careers which would seem to fit in with all of your findings above. This might take some time, although many people can often identify the kind of career which would truly work for them quite quickly as a result of spending some time on their self-assessment and considering what motivates them. If you're still unsure, however, the next step is to seek out some professional career advice.
Getting Advice
Whether you're just starting out or maybe looking at a career change, getting some professional career advice will be very useful. A good careers advisor will be able to tell you about any relevant qualifications you'll need to obtain, as well as provide you with information about current employment trends in your preferred profession as well as give you an idea about future career development opportunities. Additionally, they might also be able to put you in touch with relevant companies, teaching institutions and other organisations so you can find out more.
Dipping Your Toe In The Water
Now that you have all the relevant background information, you're only ever going to find out if a certain career is right for you if you try it out in some capacity. Depending on what career you're hoping to pursue, this will be achieved in a number of ways including:
Getting a job in the chosen field (providing you already have the necessary skills and qualifications)
Taking a relevant part-time course whilst continuing in your existing job
Working as a volunteer or shadowing an existing worker for a period of time
Seeking to return to full-time education to get the relevant qualifications you need in order to pursue your chosen career
Basically, what you need to get out of this process is some first-hand experience of doing the job so that you can be 100% sure that the career you've identified is, indeed, the right one for you.
Although there will be many other aspects you may need to consider before pursuing a particular career or opting for a career change, if you follow the process above you're far more likely to identify the career which will bring fulfilment to your life. Too many people are only ever able to feel truly fulfilled outside of their working environment.
However, the important question to keep asking yourself is, "Wouldn't it be great if I could feel totally fulfilled in my job or career too?" Keep that at the forefront of your thoughts and you can achieve anything you want, provided you're willing to put the effort in and stay motivated.
You might also like...