Understanding Employee Satisfaction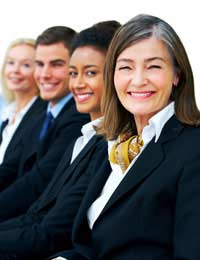 Most companies are keen to ensure there is a high level of employee satisfaction within the workplace. In fact, whilst most of us are only too familiar with customer satisfaction surveys, a lot of companies will regularly hand out employee satisfaction surveys to their workforce.
These serve the purpose of providing the company with information on what they are doing right with regards to keeping the workforce happy and what they might want to consider improving upon.
Issues such as rewards and other incentives as to how a company can keep their workforce happy and motivated are discussed in more detail in other articles contained on this website.
However, this article looks more closely at those areas which, to a large extent, are not motivating factors in a 'reward' sense, but which workers still place a lot of emphasis upon when it comes to employee satisfaction.
Having a Sense of Purpose
So many people go to work each day, just get on with their job then 'clock off' at the end of the day without really giving the whole process much thought. Whilst that's not to say that they are necessarily unhappy or disinterested with their job, it could be seen as an indication that a company hasn't really given too much thought about employee job satisfaction.
In general, employees prefer to work within a positive environment where they're actively encouraged to participate in contributing to a company's much larger goals. By promoting a culture of feedback and encouraging employees to contribute ideas and even to make constructive criticism, the worker feels that their role is far more valued than in some workplaces where you'll often feel as though you're simply making up the numbers.
Relationships With The Boss or Supervisor
Having a good working relationship with your boss or supervisor is fundamental to the level of employee satisfaction you'll experience. It's no good a company having all kinds of employee benefits and employee incentives if a worker is going to be faced with a boss who comes across as a bullying dictator who wants things done his way and no other way all of the time.
A good boss should be consistent and should lead by example but he should always promote a constant flow of communication, feedback and the exchange of ideas with his workforce. Therefore, an open door policy as well as holding regular meetings and one to one sessions are all useful in improving employee satisfaction as they all help to make a worker feel valued.
Staff Development
Another important component of employee satisfaction is ensuring that each member of the workforce feels as though they have the opportunity to develop through opportunities for promotion and to further their skills through providing them with additional training and qualifications.
Recognition of a Life Outside of Work
Apart from the various employee incentives that a company might introduce to motivate its workforce, one of the key ingredients in maintaining a high level of employee satisfaction is for a company to acknowledge the importance of a worker's work/life balance.
Therefore, a company is likely to be able to boast of greater employee job satisfaction if it's amenable to things like flexible working practices, job share schemes and working from home opportunities, for example.
Understanding employee satisfaction should not become a benchmark in gauging a company's success, however. This is because companies have to continually evolve and reinvent themselves in order to compete in today's competitive marketplace and so change from the ' cosy and comfortable' is often necessary which can sometimes ruffle a few feathers.
Nevertheless, it is something which all companies should take seriously if they're looking to retain their best workers and keep staff absenteeism levels low.
You might also like...