Retaining Your Best Staff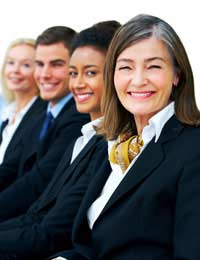 Retaining staff is one of the top priorities of all successful companies. Training and staff development cost companies a lot of money and the last thing a company wants is to have any of their best and most valuable employees taking their skills elsewhere. Therefore, it's important to keep your staff happy and to help them to stay motivated if you want to keep them. Rewards and staff incentives are ways a company can achieve staff retention and promote loyalty and these are discussed in more detail in another article contained on this website. But, apart from the likes of financial incentives, here are some of the other most important considerations when looking at retaining staff.
Get To Know What Motivates Your Staff
All employees are different and respond to staff incentives in different ways. For example, some may be buoyed up by the prospect of the boss holding a company night out every month whilst, for others, the thought of this can be very daunting. There may be some members of staff who have difficulty arranging babysitters or those who simply prefer to keep their working relationships and social friendships separate. Therefore, employers need to take a broad overview of all of their staff and come up with different ways of retaining staff in terms of the various ways they can incentivise them. This might include introducing things like flexible working hours, working from home, providing help with childcare and job sharing.
Give Credit Where Credit Is Due
Everybody likes to feel appreciated and praise costs nothing and doesn't take up too much time or effort. Therefore, employers should be prepared to give credit where credit is due and say "well done, good job" when someone's efforts merit it. The important thing here is to try to recognise the individual efforts of all the members of a team. So, even though some of your best staff might have done something amazing that is of great value to the company, you should also show your appreciation for some of those who may play more of a supporting role too. Too much praise foisted on the same individuals time after time will only breed resentment amongst other team members.
Promoting Training and Career Development
Most top companies would tell you that in their list of priorities when it comes to retaining staff, the feedback they get from their employees would suggest that the importance of training and the opportunity for career advancement, when it comes to staff development, often supersedes financial rewards when it comes to staff retention.
Communicate With Your Staff
A lot of employees often choose to move on to another company because of poor communication within the workplace. Staff like to be kept informed about company developments and like to know where they stand with regards to their understanding of their job duties and responsibilities. Therefore, regular meetings, one to one appraisals and the opportunity for employees to provide input and to give feedback are all cultural business practices which can help in retaining staff.
Even little things can go a long way in forming an employee's opinion of a company. Examples can be where cakes can be bought for staff members in recognition that it's their birthday or getting to understand a little more about staff members' individual interests and hobbies and talking to them about these are just a couple of ways in which companies can make employees feel as though the company doesn't simply view them as 'cogs in the wheel' providing labour.
In essence, the best way of retaining staff is to put policies into place so that employees feel that it's a friendly environment to work in. By considering some of the issues above and having other incentives and rewards in place, your best staff are far more likely to remain loyal to the company which will, in turn, be far more cost effective to the company in the long run.
You might also like...