Giving Constructive Feedback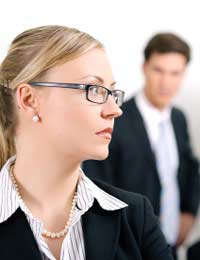 Giving constructive feedback is very important at work as it allows both a company and worker to assess progress and for a company to let the employee know what he or she has excelled at and areas where there might be room for improvement.
Many people consider feedback sessions and any constructive criticism as a daunting prospect. It's not easy for any of us to accept criticism. However, those who are skilled at conducting company appraisals will do so in such a way so that they get their points across in a manner which won't offend or upset an employee.
In fact, many workers will value these sessions, which are usually conducted in private one-to-one. This is because not only will you be told what your strengths have been - and everyone welcomes a pat on the back – it's often good to have an objective opinion on any areas in which you could do better. That allows you to set goals and objectives for your next review.
The important thing when giving constructive feedback is to do it in the correct manner and to keep all of your comments factual and have evidence to back them up, if necessary, as opposed to them being judgemental.
Always Begin With The Good News
It's always important to begin any feedback session by acknowledging the person's strengths and accomplishments first. In certain instances, you can also incorporate the weaknesses you identified from their last appraisal and tell them how they've also improved upon these aspects too.
Whilst highlighting the positive achievements the employee has made, also demonstrate each positive note with an appreciation for what it's meant to the company. Telling somebody they've done well is one thing but adding that their initiative was of real value to the team just says a little bit more.
Giving Constructive Criticism
This is always the most difficult part of an appraisal and no matter what good news has come before, the person on the end of the feedback will often just want to get this part over and done with. The important thing is to be able to get your points across with clarity but not to upset or inflame the person who you are giving the feedback to.
By adopting a tone of concern here, instead of one of anger or frustration, you're demonstrating that you care about the person in question and want to try to help them improve. It's important that you still get to the point though. Don't go beating around the bush before dropping any bombshells. The person you're appraising knows only too well what this part of the process is all about so get straight to the point.
For example, a good thing to say might be, "We need to look at how to improve upon your sales figures as I've noticed they've fallen for the past 2 months in a row. This concerns me a little but I want to help you improve upon this. What reasons do you think have caused this fall?" It's important you keep the question open-ended as it's at this stage of an appraisal where the person can often feel nervous and clam up so what you don't want to be doing is asking closed questions which are only likely to be met with a 'yes' or 'no' response.
With any constructive criticism, however, it's important to be able to point to some facts if the employee disagrees with what you're saying. If questioned about the criticism you're making, be ready to be able to back it up with hard evidence.
This is because without evidence, you're just being critical, i.e. it becomes judgmental and that won't win you any respect. So, for example, if you say someone's sales figures are down, make sure you bring the data with you to support that.
Basically, with any constructive criticism, you should be looking to flag up particular issues of concern and to raise awareness so that the worker can correct or improve upon their performance. It also helps if you ask the worker if he or she feels the company could help them in any way. In doing that, you're not simply criticising for the sake of it but are looking to genuinely help the person which is why a good appraisal will allow for a two-way exchange of views.
By doing that, you might also discover ways in which you can do things better which might improve overall team performance even more. But in any eventuality, you're at least allowing the worker to have their views and thoughts aired too.
The important thing in giving feedback is to be open and honest, to give praise where it's due and to point out deficiencies whilst at the same time offering to help improve upon those aspects where you can. Stick to the facts and also be tactful in terms of how you deliver criticism.
Once you've completed your appraisal, make sure that you've set mutually agreed goals that the employee can work towards for the next time and don't forget to ask if they've any further questions or would like to add anything.
Carried out professionally, giving constructive feedback is a very useful way in which both a company and its employees can benefit as a result. It should be an ongoing process with regular appraisals being carried out every few months.
You might also like...