Build Your Employees' Self Esteem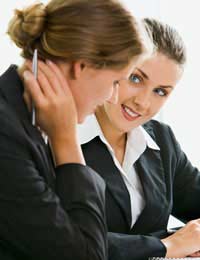 Employee incentives and other employee benefits can help in building your employees' self esteem but there are many additional things you can do as a company to increase the confidence of your workforce.
Many things can affect our self esteem outside of the workplace as well as within it. Companies can't be responsible for things that dent your confidence whilst not at work.
However, by fostering a positive approach to issues of self esteem and by taking steps to encourage workers whilst they are at work, it will help workers to feel more self assured. This will give them self confidence in general which will help a company's productivity levels.
Therefore, the importance of this and by providing other employee incentives too shouldn't be underestimated.
Treating Workers With Respect
All issues surrounding self esteem begin with respect. If a person has low self esteem, it's likely to have resulted because of somebody's total lack of respect for the person. Therefore, to improve employee motivation, it should all start with having respect for your workforce.
Company bosses and the likes of supervisors and team leaders need to understand the importance of listening when it comes to effective communication. You can soon demoralise a workforce if you're always telling employees what to do and not giving them an opportunity to respond. They might, after all, have better ideas of how to do something which might increase productivity and save time. Therefore, when leading a team, allow the workers input too.
Delegate Appropriate Tasks
All good leaders are also good delegators which can prove invaluable in providing employee motivation. All of us like to be recognised for things we do well so by getting to understand the strengths and weaknesses of each member of your workforce, you can delegate appropriate tasks to them. Not only will this allow you to spend your own time more productively, it will also boost the confidence of your workforce and build a worker's self esteem.
By delegating suitable duties to them, you're showing that you recognise their individual talents and that you believe they can accomplish the task. Of course, all good delegation needs to be carefully considered. If you're delegating tasks which are not very stimulating or are those which nobody likes to do, then that could have the reverse effect and lower a worker's self esteem even more. Therefore, employee incentives can't simply be considered 'en masse'. You need to understand what motivates individuals too.
Employee Training And Development
If you ask workers the type of things they're looking for in a job or career, good employee training and development opportunities are likely to come out top on their list of employee incentives. Being encouraged to learn new skills through employee training and having a company structure in place which is likely to reward performance by providing the possibility for promotion is a huge incentive for workers and also helps to build self esteem.
Constructive Criticism
There is absolutely nothing positive about personal criticism that offers no solution and nothing more likely to destroy an employee's self confidence. To say to an employee, "you're hopeless at that" or "customers have been complaining about you so buck up your ideas" is of no value whatsoever unless you're going to elaborate on the problem and offer a solution.
So, if you're ever dissatisfied with a member of the workforce, try to pull them to one side where possible if you intend to be critical about any aspect of their work. Then, don't just criticise. By all means get your point across but be tactful and offer a solution.
For example, you could say, "I've noticed you're finding this part of the job a little difficult. Are there any particular problems you're having?" Let the worker respond and then offer a solution such as providing them with some extra on the job training, for example. This will help employee motivation and maintain their self esteem.
Show Recognition
It's also important to for bosses and supervisors to show recognition to the workforce for a job well done. Whilst this can be done by way of offering employee incentives and rewards or other types of employee benefits, a simple 'thank you', or telling somebody they did brilliantly can help to build an employee's self esteem and helps with employee motivation.
Just remember - a happy and confident workforce is also more likely to be a productive workforce so in promoting a culture in which all of the staff feels valued and confident, it's likely to increase company profits too.
You might also like...