How to Motivate Other People Effectively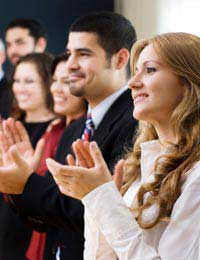 If your job requires you to motivate other people you will have to ensure your performance, efficiency and productivity is inspiring in some way. Being able to coax staff and colleagues successfully is a skill, which can only really be mastered by someone who is motivated, highly competent and knowledgeable. Understanding how other people respond to requests also needs to be taken into account.
Whilst there may be few naturally skilled motivators out there most people do possess the ability to motivate other people, in some way.
Creating a Motivational Environment
Most people are motivated by some form of reward that is given to them in exchange for their effort and achievement. This reward could be praise, additional responsibility, a financial incentive or anything else of similar perceived value. Understanding what makes people feel good in their environment, and in the work that they do, will help motivators decide the most appropriate style of encouragement to use.
Ensuring that staff and colleagues are comfortable in their surroundings, and with the responsibilities that they have, will also enable a motivator to monitor progress and efficiency. Offering additional support, encouragement and motivation, when it is needed will then be easier to do.
Motivational Appeal
Appealing to an individual's personal motivation level, to perform a task, is a better way of encouraging self-motivation than simply offering a form of bribe or reward for the completion of the work. Offering a reward can imply that the task you want someone to do is unpleasant, time-consuming or difficult, and also reinforces the unequal relationship between motivator and the person being coaxed. Providing an incentive also discourages personal ownership of the task, and can therefore be counter-productive.
Motivation can increase productivity, creativity, performance, responsibility, efficiency and a whole host of other positive outcomes, both in the workplace and in the home environment. Knowing how to motivate the people around you will enable you to stretch and encourage others to improve their skills and ability, and will have them doing whatever you request.
Easy Tips to Get the Best From Others
Praise
It is important to praise someone for their effort and efficiency, but doing so on a regular basis – for completing smaller, less important tasks – will make the individual feel good about him/herself. Everyone feels good when they are appreciated for their time, skills or input. As a direct result of feeling good about their ability it will also increase an individual's interest, output and general productivity.
Make Time
Take the time to explain your request clearly and succinctly. If you want to motivate someone to do a task on your behalf, their ability to understand and follow your instructions will enable their confidence and personal responsibility to grow. If the individual feels, from the outset, that they have the ability to carry out the request, it is more likely that the task with be completed in a efficient manner.
Encourage
Maintaining a supportive interest in the work of others shows them you are interested in helping them make progress in their work. By introducing opportunities where new skills and knowledge can be explored or challenged, in some way, you will also be helping an individual to motivate him/herself to make further positive progression.
You might also like...