Motivational Training For Sales Professionals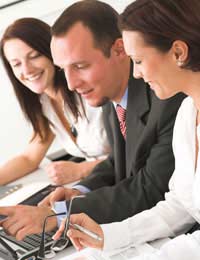 Sales training is crucial to a company's success. There are literally thousands of sales training courses out there. In addition, many companies will also have their own 'in house' sales training courses that they'll run and, whilst these will all vary to some degree, they will all need to focus on similar issues if they're going to be a motivation to the sales force. Here are some of the issues that will need to be considered.
What Sales Training Courses Should Cover
With any sales training courses, there are a number of things that should be included.
Product and Service Knowledge
Before you can even hope to become a competent sales person, you need to have sales training in order to gain a comprehensive knowledge of the product or service you are expected to sell. If you don't have this, you cannot hope to believe in the product or service and consequently, you won't have enough motivation to be able to sell it successfully. Within your sales training, you'll be taught how a product or service works, its features and benefits and be able to explain how it can be beneficial to the prospective customer.
Customer Knowledge
It's no use trying to sell ice to Eskimos. Therefore, one of the most fundamental aspects about sales training is to ensure you have a thorough understanding of your customers and if you're selling business-to-business, you should have a good knowledge of a customer's business too.
Competitor Knowledge
All good companies are only too aware that it pays to know as much as possible about their competitors. It doesn't matter how good a product or service is or how enthusiastic your sales team are, you need to be able to explain to customers how a specific product or service you're selling is better than a similar product or service offered by your competitors. Whether it's beating them on price or some other features that make your product or service better, you need to know its Unique Selling Point (USP).
Understanding How Your Own Company Works
Sales training should also include a comprehensive guide to how your own company works. Remember, a sales executive is going to be the 'face' of the company or the 'voice' at the other end of the phone. Therefore, in order to be credible, you need to know about things like how long your company's delivery time is, its after-sales customer care and its technical support service. For example, you can completely ruin your company's reputation if you say something will be delivered within a particular time frame yet the goods don't arrive on time.
How Sales Training Is Delivered
Sales training can be delivered in a number of ways and most companies will use a combination of these in order to maintain the motivation of their sales force. Methods can include:
On the job training – this is often very effective as trainees can gain first hand experience of how the job should be done by watching more experienced professionals doing it.
Classroom training - role playing exercises and group projects are both ways to spice up a sales training course in the classroom. Sales people are usually quite self confident and extrovert so to keep them motivated, you need to keep them actively participating in the training process.
Giving Them The Skills They Need
In order to maintain motivation, a sales person needs to receive training which will equip them with the skills they need to be able to do their job to the best of their ability. So many sales jobs have an element of commission-based remuneration to them so without giving them the skills they need, they're soon going to become de-motivated if they're not producing the results to hit their targets. With any sales training courses, these should include:
Listening skills
Probing and questioning skills
Prospecting and qualifying
Objection handling
Closing techniques
Territory and time management.
Whatever sales training courses and methods you choose to adopt, they need to cover all of the above and possibly more besides if you're going to keep the motivation levels of your sales trainees high.
You might also like...