How To Avoid Becoming A Workaholic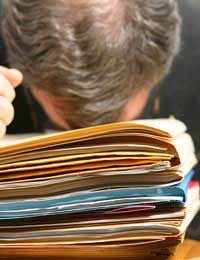 In today's fast-paced working environment, it's getting increasingly difficult to maintain a good work life balance. Furthermore, there are those who are driven to work harder than others or have demands placed upon them by the companies they work for.
Often, it can be a combination of the two. What is certain, however, is that many people cross over that boundary between being hardworking and diligent employees into becoming workaholics and this can be very detrimental.
It can pose both physical and mental health risks, can ruin family relationships and can obliterate any opportunity for relaxation or for the enjoyment of both leisure pursuits and social interaction with friends. It can also compromise the quality of your work.
Signs of Becoming a Workaholic
There are plenty of indicators to suggest that you might be in danger of becoming a workaholic. Here are a few.
Your family have hinted to you that they hardly see you and that you don't seem to be interested in what they have to say, preferring to discuss your work instead
You take less holidays or shorter ones, often skipping holidays altogether
You can't seem to take your mind off a work project even when you're trying to relax outside work
You constantly bring work home with you and often work during the evenings and at weekends too
You refuse to shorten your work day by delegating tasks to others, preferring to do everything yourself in an effort to strive for perfection
How You Can Avoid Becoming a Workaholic
There are several things you can do to avoid becoming a workaholic. Firstly, prioritise your workload and accept that there are only so many hours in the day. Also accept that only a set amount of hours should be allocated to work so in drawing up a list of daily work priorities, bear that in mind. If that means having to reorganise your priorities throughout the day as demands on your time change, don't be tempted to add on to the time at the end of the day in order to see to those lesser priorities that can wait until the next day.
If you're in a position to delegate certain elements of your work to others, do so. Your colleagues will possibly be crying out for more responsibility themselves. If, on the other hand, you're working autonomously and simply can't find the time to complete all the tasks expected of you, speak to your boss/supervisor and tell them this. It may be they're not aware of the extent of the workload they've given you and may be able to lighten the load.
Place As Much Importance Your Leisure Time
Make sure that you devote as much importance to your family and leisure and relaxation time as you do to your working hours. This might include making time for the following activities:
Conversations with your partner, children and friends and sharing relaxing social time with them – not talking about work
Sports and leisure pursuits and any hobbies you may have
Total relaxation whether that be simply watching TV, reading a book, meditating or going for a relaxing spa treatment or massage, for example
How Others Can Help
Often, certain people are driven to becoming a workaholic because of the pressures put on them by their own family, sometimes without them even realising it. Partners and children can often play a supportive role in this too by, perhaps, placing less emphasis on the pursuit of money and material possessions.
There are also support group such as Workaholics Anonymous who can offer help and advice as well as a whole host of books on the subject of Workaholics and how to break away from a pattern that, ultimately, can ruin your life if you let it spiral out of control. Whilst we all need to work, it's always important that we don't lose sight of the work/life balance and to remember the phrase, "I work to live, not live to work."
You might also like...