Prioritise Workload and Manage Time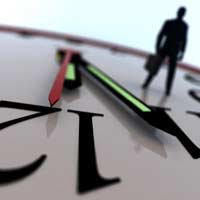 Time management is something that is often absolutely critical in today's modern workplace. We're all under more pressure to take on an ever increasing workload and knowing how to manage workload is crucial if we're going to stay on top of the game so it's important to be organised.
Defining What Are Priority Tasks
Many people think they are well organised at work and know exactly how to manage workload. However, what they, themselves, may feel are the most important priorities to accomplish first can often be totally at odds with what your employer needs from you.
Therefore, before you can even start with your workload planning, you need to meet with your boss or supervisor and find out exactly what your role entails and what they place the most emphasis on in terms of priority tasks.
Questions To Ask
Some of the key questions you need to ask about each aspect of your role include how important and urgent is the task, what, if any, are the knock on effects and what would happen if you didn't complete it in the given time. Once you've established all of this, you can then get on with your workload planning which will result in more effective time management.
Separating Priority & Non-Priority Tasks
If you're going to succeed at time management, you need to draw up a plan and divide each set of daily tasks into categories. One of the best ways of doing this when you're considering how to manage workload is to give each task a letter. This could be along the lines of the following:
A = Top priority jobs – those which must be completed today
B = Jobs that should be completed today
C = Jobs that you'd prefer to complete today but can put off until tomorrow
D = Jobs where the deadline is some way off and you can complete later
Once you've drawn up a plan for each day for your time management strategy based upon something similar to the above, you then need to allocate a set amount of time to each individual task.
If you find that there are simply not enough hours in your working day to complete everything that must be done that day, see if you're able to group together any individual tasks or if there are any ways you can be more efficient which will help with your time management.
You might also need to consider whether you're able to delegate any of the tasks to another colleague if you feel you're simply not going to have enough time.
Avoid Procrastination
There are aspects of all jobs which we prefer to others that we need to accomplish. The problem is we often procrastinate over the thing that we dislike doing the most and by putting it off, the thought of still having to do it can hang over us dauntingly and can even start to dominate our thoughts when we should be getting on with other tasks.
The key here is to try, if possible, to get the task you hate doing the most out of the way at the beginning of your shift. That way, you'll be more motivated to complete the rest of your workload knowing that the other task has been done. Of course, this isn't always possible as there might be more pressing things to attend to first.
If that's the case, then try to slot in the task you dislike doing the most to a time when your energy levels are at their highest. This might be straight after lunch, for example, when you've had an extended break and can come back feeling refreshed.
Build In Some Flexibility
It's also important to remember that priorities often change throughout the day so you need to remain flexible about your schedule. If additional tasks need to be added and become of the utmost priority, then it's important to move lesser tasks to the following day, if that's possible, or you may need to delegate them to somebody else so it's useful to build in a little additional time into your daily workload planning for the unforeseen. Flexibility is a crucial aspect in how to manage workload.
Key Things To Remember
The most important things to remember when planning your workload are the following:
What would be the impact on clients if the task isn't completed today
What would be the financial impact on the company if the task isn't completed today
Where there are deadlines, which ones can be put back until another day
What are the cause and effects of completing (or not completing) a specific task today
By having a carefully thought through strategy and putting that down on paper (or on your computer), you should be able to accomplish much more thanks to your workload planning. Make sure that you're fully aware of what the company's priorities actually are and ensure that you review them with your boss or immediate supervisor regularly so that you can react to any changes in priority.
Finally, if you still find there aren't enough hours in the day, carefully monitor your time each day doing everything and that means EVERYTHING. You may be quite shocked as to how much those 10 minutes chatting by the water cooler here and the 5 minutes answering non-urgent e-mails there all add up. This is all time that could be put to better use.
You might also like...