How to Delegate at Work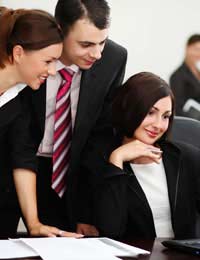 Delegating effectively is useful for a whole host of reasons and knowing how to delegate is going to be crucial if you're going to be working in a management or supervisory capacity.
Many of us who take pride in our work or who tend to be perfectionists are often loathe to hand over the reins of a particular project to someone else for fear that the job may not be given quite the same amount of care and attention as we would have given it ourselves.
However, delegation is simply about knowing why you should be delegating a particular task, how to go about it and what might be the repercussions if you fail to delegate.
When Delegation Can Be Useful
As a supervisor or manager, delegating effectively is useful when you need people to look after certain routine jobs which are not really cost effective for you to have to carry out. Having learned the skills necessary to do the job, not only can workers take over jobs which you don't have time to do, it also makes your staff feel more worthwhile, having given them added responsibility.
Quite often, delegation makes sense when a task needs doing where a particular member of your team has more skills and aptitude for completing a specific task than you do yourself as this will save time in the long run.
How To Delegate Effectively
Delegating effectively begins with determining what you should and shouldn't be delegating. A useful way of evaluating this is to draw up a list of those tasks where you feel that somebody is better equipped to carry out the task than you are or if it would prove less expensive to delegate or where your time and expertise is needed on more pressing matters.
Ensuring Clarity & Communication
Delegating effectively requires good communication. You need to explain the task you are delegating simply and clearly to the person who you've appointed to take care of it. Make sure they understand where the task fits into the grander scheme of things and that they are clear about the results you expect alongside any deadlines or constraints which may be involved.
Always ask them if they have any questions once you have briefed them and be clear in your own mind that they have understood all that you've said.
Match The Right People To The Right Tasks
One of the biggest mistakes that people fall into when delegating tasks is to place too much emphasis on the task and what needs doing and not paying enough attention to the person you've appointed to carry it out.
Therefore, an effective leader will get to know the personalities, skills and personal attributes of all the team members so that when delegation is called for, you can match the right person to the task. Not only will this save time, you're more likely to get the desired result you're after. After all, you wouldn't ask your leading goal scorer to go in goal for the penalty shootout, would you?
Let Them Get On With It
There is no point in delegating if you're going to be hovering over the person you've appointed to carry out the task and watching their every move like a hawk. You've given them the responsibility for carrying out a specific task so let them get on with it. It's perfectly acceptable to be there for them if they wish to come to you for any advice and you should encourage them to do that if they feel it's needed.
Likewise, don't be too harsh if they make mistakes. One of the best ways you can improve your team is to hand them added responsibilities which make them feel more valued. That's the way they'll build up their confidence and improve their skill set. However, if we never made mistakes, no one would ever learn anything.
The importance here is to tell them where they might have gone wrong which they will take on board for next time. Above all else, be supportive and encouraging.
Give Credit Where Credit Is Due
Nobody likes to feel as though they are taken for granted. However, many bosses and supervisors will delegate tasks simply to lighten their own load. This is only ever likely to cause resentment. Always explain why you need to delegate a particular task, and above all else, make sure that you give due credit for a job well done.
You might also like...