Why Develop Team Goals?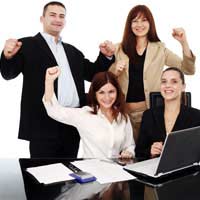 In order for teams to work effectively, it's important to establish a number of achievable goals or objectives by which each person individually and the team collectively can be measured by.
Why Are Team Goals So Important?
Setting and achieving goals is not only vital to any team-based project in order that everybody is working to the same overall objectives but it also serves many additional purposes too. By setting goals, it gives each individual within the team a greater sense of identity and allows each member of the team to understand where both they themselves and the other team members fit into the jigsaw.
It also helps to clarify the roles of each team member so that they can focus on what they need to be focusing on as opposed to wasting time worrying what other people are up to. By understanding your own responsibilities within the team, it also provides each person with a sense of commitment both to their own responsibilities and goals and to that of the team as a whole.
Goal Planning
All teams will usually appoint a leader, or a leader in the form of a boss or supervisor will already be in place, to oversee the project and to ensure that the objectives are met as set out and delivered on time. When planning a team project and delegating particular tasks to specific people, the usual way to do this is to hold a group meeting at which the following general questions will need to be asked:
What does the team intend to achieve
How is the team going to achieve it
Why does the team intend to achieve it
By what date and time does the team intend to achieve it
What will each member of the team contribute as individuals and how do they intend to achieve it
By asking these types of questions, it will solidify in the minds of all of the team members what the project is all about and how they are going to achieve all of their goals. This is also the time when divisions of labour are discussed and where people can be matched with specific tasks to suit their own particular skill set, wherever possible.
Keeping The Lines Of Communication Open
Another crucial aspect of the success of a team project in ensuring that achievable goals are met is keeping the lines of communication open. This might be through holding regular team meetings to gauge progress which is important in order that the project leader can keep abreast of where everybody is up to with regard to their goals. It also enables the team to discuss any potential problems or difficulties that they have been faced with.
Team meetings also provide the opportunity for any modifications to the goals which have been established and to consider certain aspects of the project which may require more attention than others. Of course, communications via one-to-one meetings and by phone and e-mail between the project manager and the team collectively or individually and between members of the team themselves are other ways of ensuring that the project stays on track.
The crucial thing with any project as it's progressing, however, is to keep everybody informed as to its progress and to any changes or modifications to the original plan as soon as possible.
Team work and setting and achieving goals will often become even more important the higher up your career takes you. If you aspire to become a leader yourself, you're going to have to rely upon the skills and talents of others and be able to delegate effectively. Therefore, when you're starting out, it's important to gain a firm understanding how to work as part of a team effectively and how setting and achieving goals plays a fundamental role in how successful a project ends up.
You might also like...