Being Assertive With Family or Friends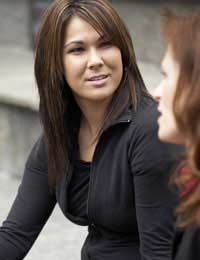 There is not a lot of difference between learning how to be assertive at work or at home with family or friends. The basic principles are fairly similar.
Where it differs, however, is that people are often either too aggressive in how they display their assertiveness with family or friends or go the other way and do not come across as assertive enough.
This will often manifest itself as a full-scale row or, alternatively people will often say things like, "I didn't say anything because it's easier to keep the peace" or "I know they're wrong but I don't want to upset them."
Why Being Assertive With Family & Friends is Important
Even with the best will in the world, our personal relationships with family and friends do not run smoothly all of the time. Everybody is an individual after all and though we may have similarities to and shared values with other members of our family, we're not going to always see eye-to-eye all of the time.
Likewise, with friends. Although there will have been something initially that has attracted us to make friends with a particular person, there will occasionally be disagreements or boundaries might be overstepped. Setting boundaries and being assertive is important and nowhere more so than when dealing with family and friends.
The Importance of Establishing Boundaries
Boundaries represent your emotional and physical limits. They make you feel safe and make others feel safe as well. By setting boundaries, everyone is aware of the imaginary line that's drawn, even without often consciously being aware of it. This helps to keep family relationships and friendships on track.
Without having these boundaries and without being assertive if the lines are crossed, this is what leads to arguments and misunderstandings. That doesn't mean we have to always agree all of the time. That would make life a dull place. However, being assertive and setting boundaries ensures that we don't fall out with each other quite as often.
Demonstrating Assertive Behaviour
There are many different ways of expressing how to be assertive with family and friends. If you have children, telling them they can't have chocolate until they've finished their meal is leaving them in no doubt where the boundaries lie. By not telling your partner that you feel hurt each time they come home from work late, only reinforces their notion that you must think it's OK so they'll keep on working late.
If friends are having an argument and they're trying to force you into the uncomfortable position of taking sides, all you need to say is, "I don't like arguments so please leave me out of it." As you can see, with all of these examples, you are, in fact, setting boundaries.
It's only by being open and honest with people and sharing these will you be able to keep a harmonious balance in your life. If you're never assertive, then you'll only ever get what other people want you to have or what they think you want or need. This is often exactly the opposite of what you do want or need.
Therefore, being assertive has nothing to do with being aggressive. It basically allows you to reinforce, where necessary, the types of actions and behaviour that either please or displease you. By understanding you better as a person, people will know how to relate to you more easily which will always be beneficial to friendships and family relationships and will result in fewer arguments and misunderstandings.
You might also like...